Prissy Holly, a former Army Captain turned journalist, has been banned from Facebook for posting a picture comparing the San Bernardino shooter, Tashfeen Malik, to a goat. The photo was on her personal page, where she should be able to exercise her freedom of speech. As a journalist for News Foxes, Prissy Holly has become an outspoken voice and leader among conservatives. Sounds almost ridiculous, to cut a veteran off from using the rights she fought to protect for Americans.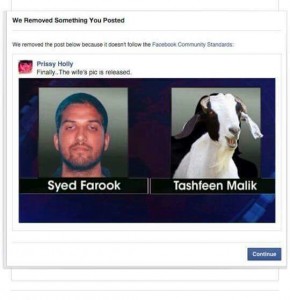 Prissy Holly, was a Platoon Leader for an Infantry unit while deployed to Iraq. She was in control of the internment facility at Camp Bucca, and oversaw some of the worst terrorists prisons while she served. She led with courage, valor, and the heart of a soldier. And then, our veterans get to come home to this kind of treatment for their sacrifice.
Facebook's Community Standards can't seem to make up their minds. Talk about the constitution? BAN. Defend Americans against racism or bigotry? BAN. Insult terrorists who killed many innocent people? BAN. Criticize Obama or his administration? BAN. Yet, as many of you have seen for yourself, some truly disgusting antics can't get removed without an army of reports. I'm not sure whose pocket Zuckerberg is in, and with the contradictions in his standards, I doubt he even does. I'm assuming whoever is throwing money his way at the time.
You can wipe your butt with an American flag, threaten to kill white people and cops, buy don't you dare insult murderers. That's the Facebook standard.

It becomes more obvious freedom of speech isn't being welcome here. You can fall in line with what they find acceptable, or you cannot use the site. What better way to keep people silent, with the addiction to social media. It has become a way of life, promoting, and spreading information for so many. But is the price we pay really worth it?