An African American male that goes by the name of Furqan Stout decided to celebrate July 4th by defecating on an American flag. We believe this is an Alias since he proudly lists his family members on his facebook profile which have the last name Walker. This is by far the most primal display we've seen in the flag desecration movement as of late. You have to wonder if someone who is uncivilized enough to commit such a savage act inspires the racism against himself that he claims he's protesting against. I mean hey, if you'd do this to an American flag, there's no telling what you would do.
We have always been fair with race. If you look in the flag desecration directory where we list these morons we obviously do not target race. We definitely did not want to be labeled as racist which is pretty easy to get labeled as these days. We however, are no longer concerned with political correctness, so we decided to look at race in this incident and report on who approves of this activity and who condemns it, by race.
So Lets Look at Race in this incident
Yes, it's about time we go there.
These people either approved or laughed at it
African American
74%
White
25%
These are the people that spoke out against this.
African American
9%
White
75%
We couldn't tell by the reaction whether they approved or didn't approve.
African American
17%
White
0%
I personally feel that this does not imply that 74% of all African Americans in the United States support this type of activity. I think what it shows is that ignorance loves company from more ignorance. Uneducated ungrateful trash like this seem to get along well and congregate together.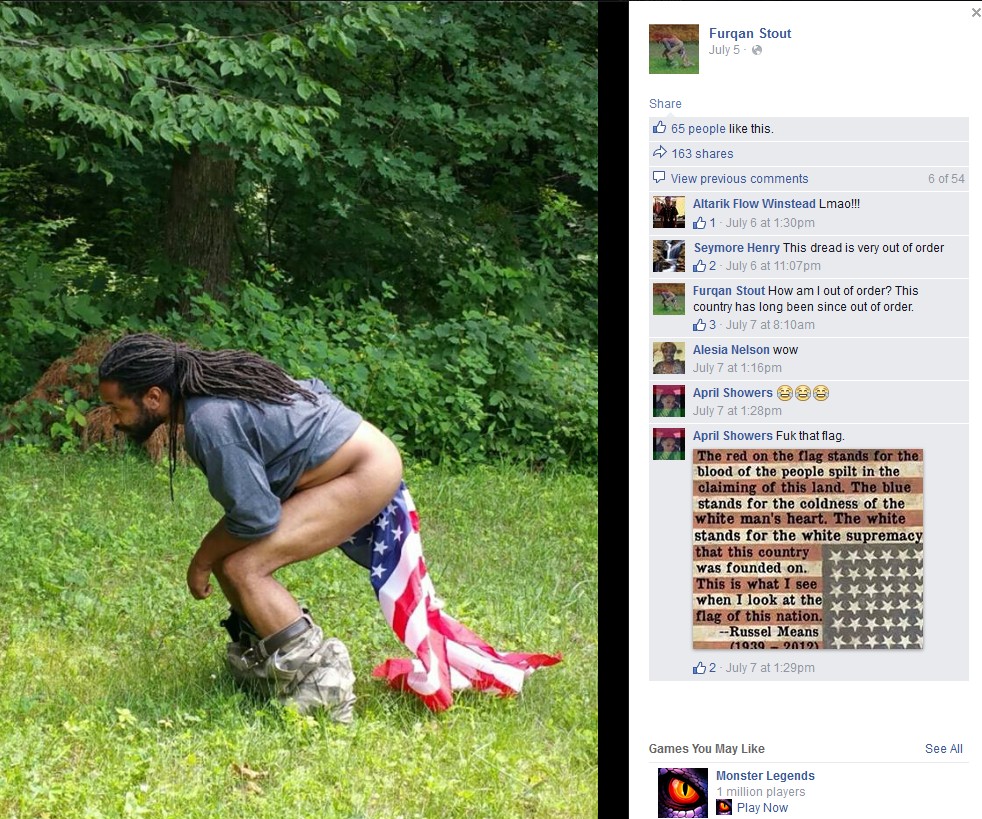 Our Message to African Americans
We researched flag desecration more than any topic we've reported about on this website. People desecrating a US flag is just something we don't tolerate, too many have sacrificed too much for that flag and for our rights. It's very safe to say we know more about the people behind flag desecration than anyone.
At least 3 out of 4 times when someone desecrates a flag, the African American race is involved by this small group of African Americans who are trying to bring your entire race down. They are feeding your own brothers and sisters a plate full of lies to incite hatred against whites, American in general, and even the US Military. We all read about slavery from history books because there isn't a single person alive today that lived during that time. Nobody alive today was responsible for it.
If you dislike how you are treated in America, and your true goal is fighting against racism, this should at the top of your list for "causes to oppose" because this entire movement is encouraging far more racism from both sides than it will ever prevent. The racism already caused by this will last for generations, as many people feel passionate about both patriotism and racism.
This movement is trying to link that very thing, Patriotism, to Racism. By doing so they can bait more and more African Americans into hating their country rather than showing love for it. They then convince the same people to burn a flag or desecrate it in some way shape or form, which causes even more racism. The longer this flag desecration goes on, the more divided we become. If you are against racism, try to understand what we're telling you, and do not support movements that only encourage more. This is not what your civil rights leaders would want.