Update March 12th 2016:
On March 12th 2016 Tom Dimassimo attempted to charge Donald Trump during a rally. This page covers his previous tirades when he was out burning flags in front of US veterans. For more information on his recent Trump incident watch the above video or read any of these fine articles:
Profile:
Tom Dimassimo is the perfect example of a poor soul brainwashed by an overly liberal university. Tom Dimassimo is a proud student of Wright State University, in Dayton Ohio. Parents who are considering sending their children to this college should really consider watching the videos on this page so that they can see the quality of education one can expect when attending this university.
Tom Dimassimo has been caught on camera lying to reporters saying that he means no disrespect to US soldiers, however in an unreleased video, you can clearly hear Tom Dimassimo telling a US Veteran that he will burn a flag when the Veteran made it obvious that he was offended by Tom Dimassimo's flag deseration. Tom Dimassimo obviously has no respect for the men and women who died for his ability and freedom to attend a college int he first place, unless you consider telling a vet to his face that you're going to burn a flag respecting them. Surrounded by a group of his friends, Tom Dimassimo was a real tough guy.
Here is the news report covering this incident at Wright State University where Tom Dimassimo claims that he respects US Vets: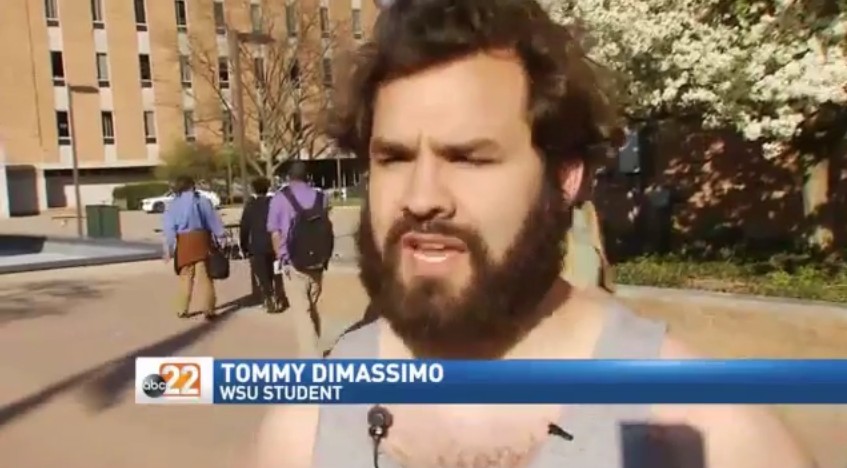 Now here is a video of Tom Dimassimo telling a US Vet that he is going to burn a US flag.
Purpose of this page:
The purpose of this page is to expose people who desecrate the American flag. All images and videos are taken from posts each individual person has made publicly. The purpose of this page is to expose people, not to condone violence against them.