Original article by Douglas Ernst of The Washington Times.
A new challenge in support of a wanted Georgia college student and New Black Panther Party member encourages individuals to desecrate the U.S. flag.
"The Eric Sheppard challenge" #ericsheppardchallenge has been adopted by online activists to honor Valdosta State student Eric Sheppard after he allegedly brought a gun to local protests. One of the protests gained national attention when Air Force veteran Michelle Manhart was detained for grabbing one of the American flags.
Erika Walker was caught on a now-viral video dancing on the U.S. flag while yelling "F*** your flag," education watchdog Campus Reform reported.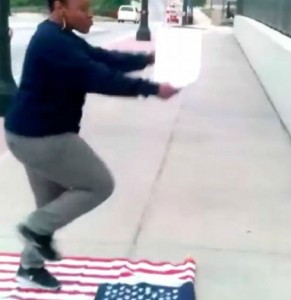 Numerous photos of other participants have been posted on Facebook, The Blaze reported Friday.
Mr. Sheppard disappeared last week when a gun was found in his unattended backpack on campus. He self-identifies as a terrorist against white people, The Washington Post reported.
Mr. Sheppard's father has pleaded with the student to turn himself in to police.
"Son, you know we love you and have always taught you to do the right thing and make wise decisions. Please make the right decision and turn yourself in, either to the authorities or to me, and we will handle this together," Eric Sheppard Sr. said in a statement to a local paper.
Empty tab. Edit page to add content here.