Just when you didn't think Facebook's anti white, anti republican, anti Christian community standards department could get any more racist, they strike again out of no where. Dom the conservative, a beautiful conservative woman that writes for Mad World News has recently had her facebook page deleted that she had spent years making. Why might you ask? Because she has a pretty face: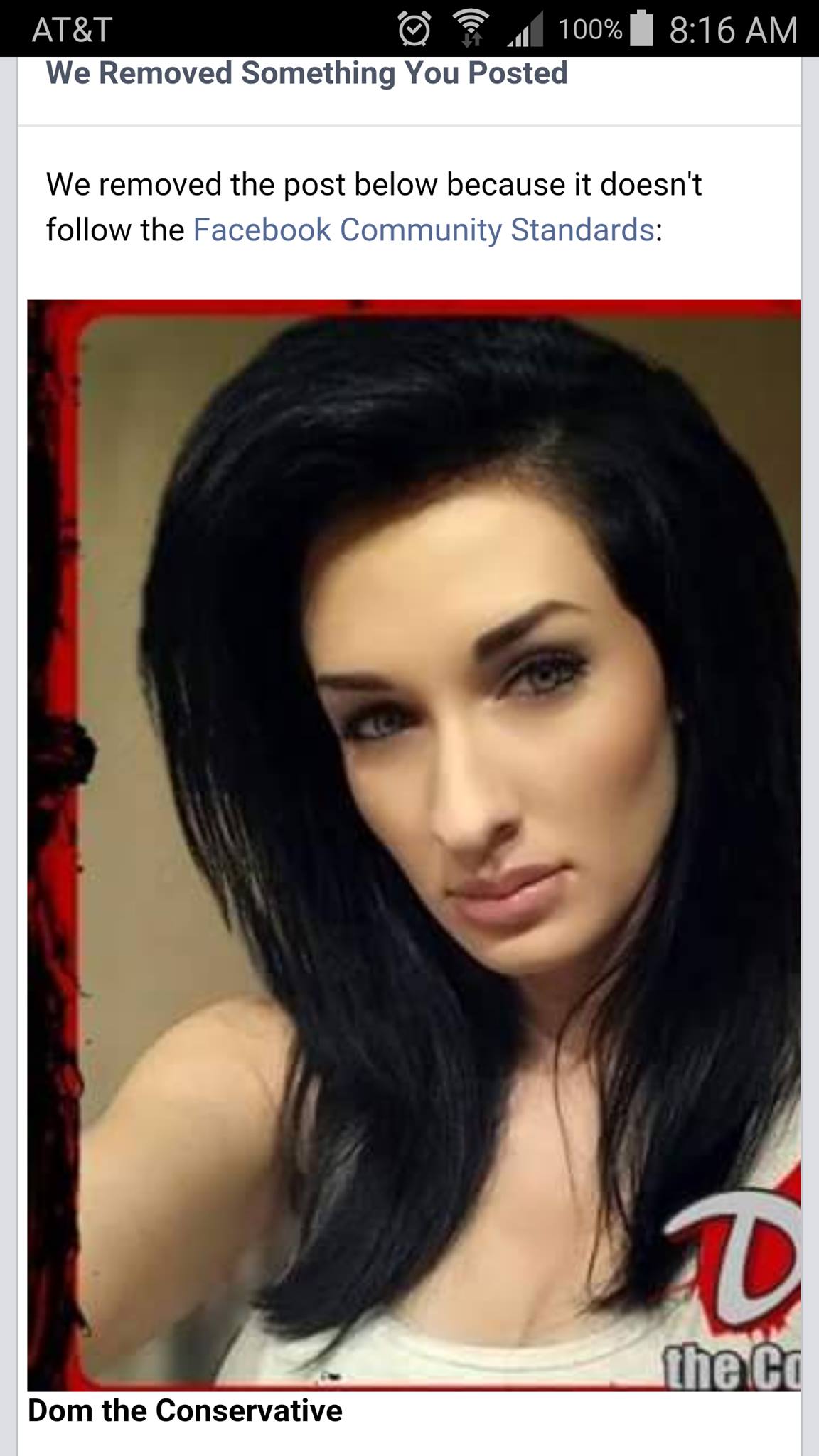 Sure you will, lets be honest here. You're the typical American facebook user. Facebook can terrorize everyone's right to free speech on their website while you sit back talking about how important it is to you. You can talk a big game about patriotism and constitutional rights but in the end, you won't even hit the log off button on a social networking site when they assault those rights on a regular basis.
Facebook has banned an Army captain for going public about rape threats she was receiving from Muslims. Facebook banned me for speaking out against the KKK, discussing the constitution, and opposing racism. Facebook banned Jan Morgan years ago for opposing Islam.
Freedom of speech does not and has not existed on facebook at any point in time. The fact that so many Americans love the website shows you how little they care about the First Amendment when it comes down to it. Talk is cheap, the American Citizen's actions speak louder than their words
All of us journalist type people, we're here on facebook because we have to be. That's the website that you allegedly patriotic people call your virtual home. A website that has been constantly and intentionally sabotaging your beliefs and ideology for the past 5 years at least.
We've sat back and watched countless patriotic people get terrorized by facebook's administration. We've watched thousands of patriotic people spend years building their pages only to have them removed for a bogus reason, yet the American population consistently shows us how little they actually care about their Country or their Constitution, because they'll continually log into the website daily no matter how big of a threat the website is to their Constitutional rights.
We've been telling you this for years, but you just don't listen to us. Facebook does not care about the Constitution, facebook does not care about your rights, and after their recent wave of terrorism on Conservatives, Christians, and Patriots, it's safe to say if you're an avid Facebook user the Constitution really doesn't matter to you either.