Profile
Harold A. Maze Jr's Bio from his old website:
Rapsy Rawls, born Harold A. Maze Jr, is a 34-year-old Activist/Artist who says, with confidence, that he has been training for a specific moment his entire life; the moment to make a difference in our societies and communities.
Rapsy grew up in the small southern country town of Franklin LA, with a population around 7,500 forced his mind to travel to other destinations. After graduating high school, he attended Northwestern State University of Louisiana where he majored in Information Technology. After realizing school was not for him, he returned home to pursue other job opportunities. Unfortunately, his surroundings led him to a path, which changed his life. The drug route quickly engulfed him.
Identification through Public Records (blurred)
My Personal Comments (From website admin)
I read through his guys pinterest and his bio. It disappoints me that he stepped on an American flag because he seems like an intelligent African American man. On some issues he gets it right, like when he sticks up for women who have been raped, but he does get the issue of stepping on a flag so very wrong.
I enter everyone who I catch doing this and can locate, however I will say in this case if there ever is a case where an intelligent young man got influenced severely by the wrong way by either a crowd, a person or persons, or perhaps even life itself, it would be this man.
I did find an older picture that I posted below, I wonder what happened….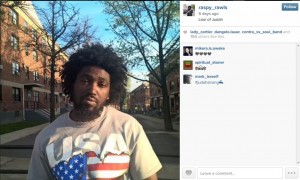 Purpose of this site
The purpose of this page is to expose people who desecrate the American flag. All images and videos are taken from posts each individual person has made publicly. The purpose of this page is to expose people, not to condone violence against them.