Profile:
In August of 2013, Alexia Kousnetz decided to make the following post on social media:
Its funny how people in the military act like they deserve respect, when about 89% are doing it for their own selfish reasons. Free school, nice benefits, travel around, 3% chance of actually going to war. . all you gotta do is give up 1 summer to work out and learn how to shoot a big gun. Sounds nice huh? Why should you deserve respect? Because you're risking your life? More people die just in chicago alone annually than american soldiers. Did you know that?…WE ARENT EVEN IN WAR ANYMORE. So don't act like you're doing anyone a favor by signing that paper because I wont for 1 second congradulate a pussy in a superhero custume. You want respect? You wanna be a hero? Put the fuckin gun down, pick up a medical book and learn how to save someones life instead of being trained to take it away.
Photos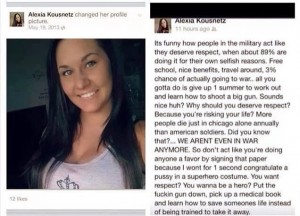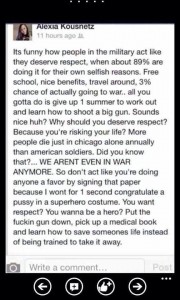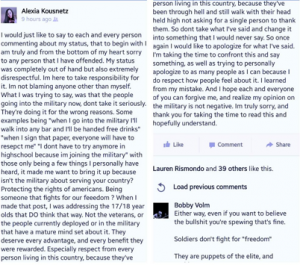 Identification
Notice the pictures she used in the comments, they were found on her facebook account: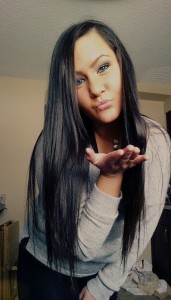 Purpose of this page
The purpose of this page is to expose people who disrespect the US Military. All images and videos are taken from posts each individual person has made publicly. The purpose of this page is to expose people, not to condone violence against them.