Rowlett Texas:   A group of African American females attacked a 14 year old white female while she still held her 3 year old niece in her arms in a recent black on white hate crime.    The black teens can be seen yelling at the white female for a few moment before a black female sneaks up beside the teen and throws her on the ground.   The 3 year old hits the pavement hard screaming while African American males stand around laughing, dancing, and recording it on their cell phone camera.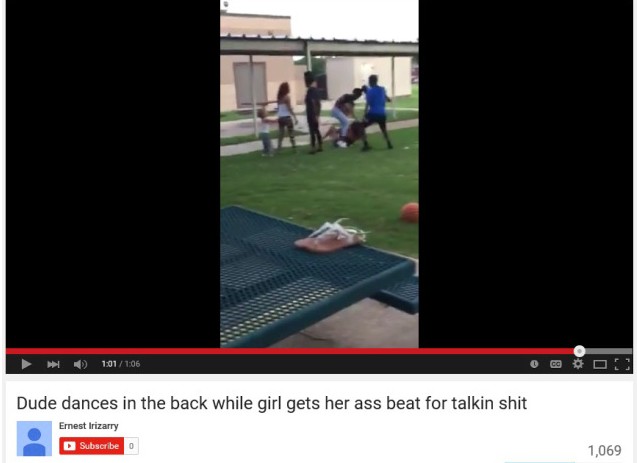 The infant girl suffered a head injury from hitting the sidewalk.    I'm honestly surprised that not a single African American in this video had the decency to stop the attack.  One of the African American Males can be seen later in the video running over and dancing in front of the mother as she's being beat while the 3 year old screams.    Obviously racism plays a factor here as you'd have to have absolutely no sympathy for a race to allow a 3 year old child to lay on the ground bleeding and screaming while you record the hate crime rather than helping the child.
Even though the Police haven't arrested a suspect when this video was released, and have absolutely no idea who it is, and despite the fact that it was black females vs one white girl, they already are claiming it's not a racist attack. They also claim the girl attacked is bi-racial. Funny how that works, Obama is half black / half white but is referred to as the first black president, yet when a white teen is assaulted by black teens she is "bi-racial" and not white. Not to mention the child looks pretty white to me.
It's also ironic how a few weeks ago when a similar incident happened between officer casebolt and an African American teen, it was declared racist in the first 30 minutes, yet here we have a similar incident with injuries to a 3 year old, and within 5 minutes, due to the fact that the attackers are black, it's instantly labeled as non racist. Funny how American racial hypocrisy works isn't it?
Oh and by the way, here's the facebook page of the African American male that sat around recording it on his phone while laughing.   His name is Ernest Irizarry Jr., I'd honestly like to know who his parents are so that I could tell them what colossal failures they are.
Media has reported:
We can't verify the validity of this but another website has reported that this was what a witness had to say, the black attacker was "looking for crakka's to beat up". Again, we can't verify if this is true or not.